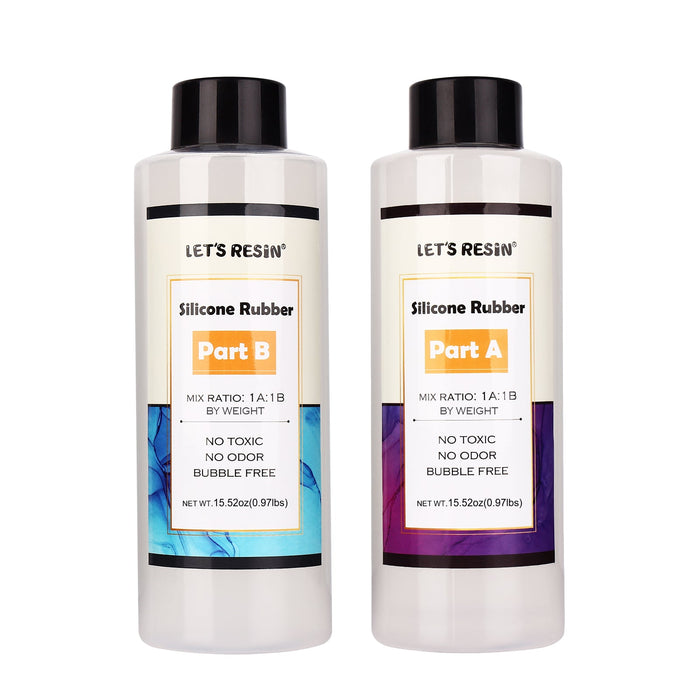 Silicone Mold Making Kit - N.W 31.74oz
Original price
$50.99
-
Original price
$50.99
PREMIUM MOLD MAKING SILICONE MATERIAL: Our translucent liquid silicone is made by safe silicone material, non-toxic and no odor, very flexible, soft, and clear. You could also mix this molding silicone with mica powder to create new colors.They are platinum-cured silicone.

EASY MIXING & POURING: This silicone mold making kit is 2 part silicone, including part A and part B, the mixing ratio is 1:1.Pour the Part A and Part B together, then stir the mold silicone mixture for 5 minutes, make sure to stir the silicone rubber mixture thoroughly for better results.

NO BUBBLES: The bubbles of the liquid rubber mixture will automatically disappear within 2 hours, no vacuum degassing is necessary. The working time is 5 minutes at room temperature and the complete cure time is at least 12 hours at room temperature, it varies on your mold size and thickness. If it's s little sticky, please extend the curing time.

GREAT FOR BEGINNER: If you're new to silicone mold making, LET'S RESIN mold making silicone kit is a perfect choice for you to try! No special skills or tools are needed. You could enjoy this fun and creative activity all day.HOW to CLEAN: If there's any spill, please clean with soapy water or rubbing alcohol.

WIDE APPLICATION: It's very ideal for art craft use, DIY your own resin molds, wax molds, candle molds, use to make molds for resin, wax, soap, casting, etc. ATTENTION: Not for making food mold use. If you have any questions about LET'S RESIN rubber mold making kit, please don't hesitate to contact us.
You will get free standard shipping in the Canada if your order values over CA$40.
All CA orders will be processed within 1-2 days (business days). Typical shipping time is are 2 - 5 business days. If you wanna cancel your order, please contact us as soon as possible.
If you are not completely satisfied with your new LET'S RESIN® product, please let us know! Returns are FREE within 30 days of purchase.
Please refer to the shipping and return policy for more details.