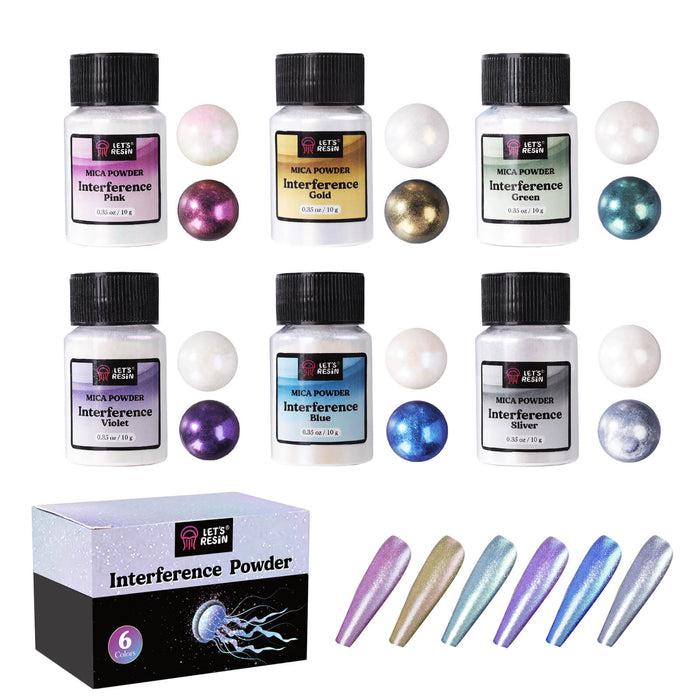 Interference Mica Powder
Original price
$14.99
-
Original price
$14.99
Pearlescent Mica Pigment Powder �Appearance is white mica powder defined by light refraction, reflection, transmission to show color. Different color bases create a different effect surface, apply a small amount over the base color of your choice to get the unique looks.(We use black base in our pictures.)

6 Premium Striking Color �Included 5 shade of color, gold, pink, violet, blue, green, silver 20ml/jar. Mixed with the more transparent material, the more beautiful pearl luster can be produced, add some wonderful experiences to your artistic creation.

Fine & Smooth Epoxy Pigment Powder �LET'S RESIN interference mica have a smooth finish and different shades of color, optimum coverage properties, non-toxic, ultra fine mica powder particle. This resin mica powder can be mixed with just about any medium and applied to most surfaces.

Multifunctional Interference Mica Powder �LET'S RESIN mica powder are perfect for epoxy resin, nail art, beauty, bath bombs, slime, candles, art paints, watercolors, acrylics, varnish, automotive, DIY crafts and more!

100% Quality Assurance: LET'S RESIN mica powder for craft provides 30-days money-back. If epoxy resin color pigment you received was damaged due to transportation, just contact us, we will provide a full refund or free exchange.
You will get free standard shipping in the Canada if your order values over CA$40.
All CA orders will be processed within 1-2 days (business days). Typical shipping time is are 2 - 5 business days. If you wanna cancel your order, please contact us as soon as possible.
If you are not completely satisfied with your new LET'S RESIN® product, please let us know! Returns are FREE within 30 days of purchase.
Please refer to the shipping and return policy for more details.