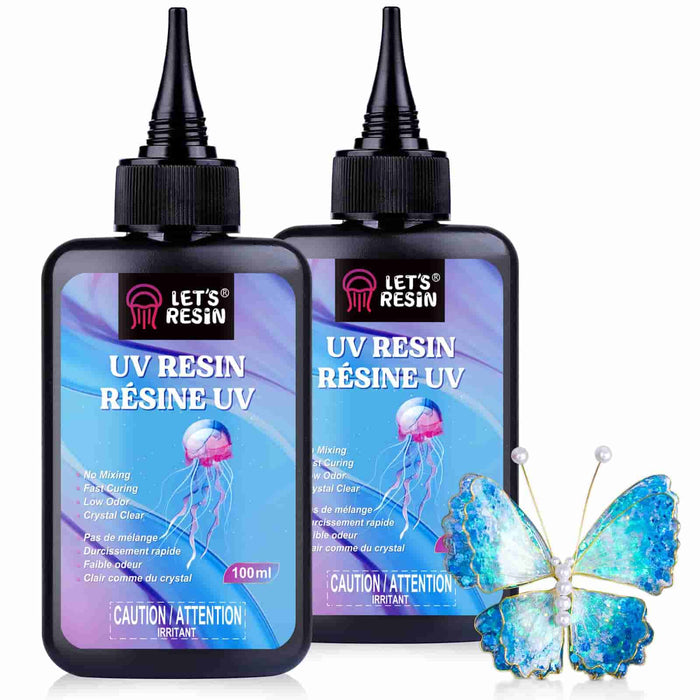 Clear UV Resin - 200g
Original price
$0.00
-
Original price
$0.00
Faster Curing & Low Odor: LET'S RESIN upgraded UV Resin adopts high-quality materials, after long-term testing and improvement, and has safety certification. It has a short curing time, low odor, and shrinkage rate lower than 2%, making your craft more smooth surface, with no defects. Hardness up to 85D after curing, excellent stability and scratch resistance. The UV resin kit is perfect for making beautiful necklaces, earrings and pendants.

Crystal Clear & Yellow-resistance: UV epoxy resin with 1.5 times higher refractive index material. Compared with other UV cure resin, is more transparent and has yellow resistance. Leave no trace on the coating, suitable for any transparent material. The crafts surface has a high gloss. It is very ideal for small molds, dried flowers, heat-shrinkable sheets, pinched wire sealing layers, and other small areas of a light plane, tiny delicate landscape DIY works.

High Compatibility: This clear UV resin has a viscosity of 2000cps, suitable for casting and coating. Compatible with various materials, such as mica powder, pigment, and gold foil. It can be used as an adhesive to bond items with high transparent items and can also use for paintings and make bubble textures in the cup-turning machine. UV resin kit provides more creativity, and play with your imagination to create bright and dazzling works!

Operation Tips: ① Store in a cool place. ②Before use, try a small amount to master the skills and techniques. ③The surface must be kept clean and dry when bonding. ④UV resin curing needs to be completed under the condition of ultraviolet light, please use a special UV resin lamp to cure. ⑤Do not touch with your hands immediately after UV light irradiation, and then touch after curing and cooling to avoid burns and fingerprints.

Why Choose Us: With years of experience in epoxy resin, LET'S RESIN is committed to providing craft enthusiasts with tools and materials to turn imagination into reality. Strictly control product quality and attach great importance to the consumer experience. UV cure resin has a 1-year shelf life, please read the manual carefully before use. If you have any problems, please contact us. We will do our best to solve it for you to ensure your shopping experience.
You will get free standard shipping in the Canada if your order values over CA$40.
All CA orders will be processed within 1-2 days (business days). Typical shipping time is are 2 - 5 business days. If you wanna cancel your order, please contact us as soon as possible.
If you are not completely satisfied with your new LET'S RESIN® product, please let us know! Returns are FREE within 30 days of purchase.
Please refer to the shipping and return policy for more details.