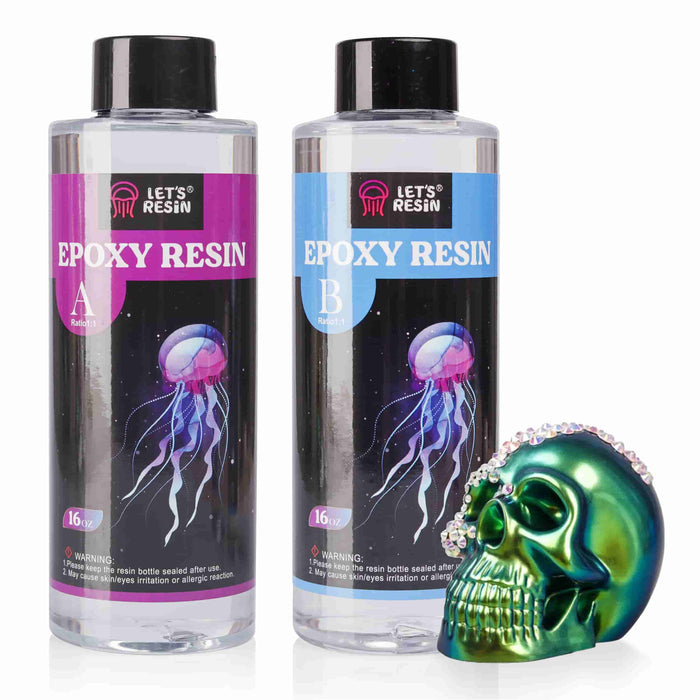 32oz Epoxy Resin
Original price
$42.99
-
Original price
$42.99
CONFORMS TO ASTM D-4236
WARNING: CONTAINS Β-HYDROXYETHYL METHACRYLATE. MAY PRODUCE ALLERGIC REACTION BY
SKIN CONTACT. Avoid contact with the skin. Wear protective gloves. If necessary, put on a respirator and goggles.
WARNING:
1. Please read through the user manual before operation.
2. Keep out of reach of children. Not for food.
3. Avoid contact with the skin. Wear protective gloves.
4. Store it in a cool, dry, dark place.
5. Avoid direct sunlight when working.
Super Large 32oz Epoxy Resin Kit: This is a super large 32oz 2 part epoxy resin kit including 16oz part A(resin) +16oz part B(harden). The resin cures crystal clear and hard as a rock.

Easy to Use: Mix the resin A and hardener B with 1:1 volume ratio then it's ready to use. Good for cutting boards, coasters, countertops, bartop, resin art, resin jewelry, coating artwork, acrylic pour paintings, geode paintings, molds, river tables, and other works!

No Odor: No VOCs, No BPA, No pungent chemical smell, perfect match for all resin dyes and other resin craft pigments.

LONG LASTING: anti-yellowing from UV exposure and self-leveling, self degassing, create beautiful artwork and color stability.

100% QUALITY ASSURANCE: If the epoxy resin you received was damaged due to transportation, just contact us, we will provide a full refund or free exchange.
LET'S RESIN Casting and Coating Epoxy Resin
This clear epoxy resin is great over wood, paper, acrylic painting, printed photographs, etc.
Perfect for coat tables and bars, encapsulate objects, casting jewelry, make resin paintings and other artwork.

Kindly Note:
The clear polymer needs to be stored in a dry, safe, temperature-controlled environment.
Always keep the lids tightly sealed when not in use. Remember, oxygen and moisture oxidize and can rapidly degrade the epoxy and hardener.

Package includes:
1 PCS Casting Resin
1 PCS Epoxy Hardener
You will get free standard shipping in the Canada if your order values over CA$40.
All CA orders will be processed within 1-2 days (business days). Typical shipping time is are 2 - 5 business days. If you wanna cancel your order, please contact us as soon as possible.
If you are not completely satisfied with your new LET'S RESIN® product, please let us know! Returns are FREE within 30 days of purchase.
Please refer to the shipping and return policy for more details.