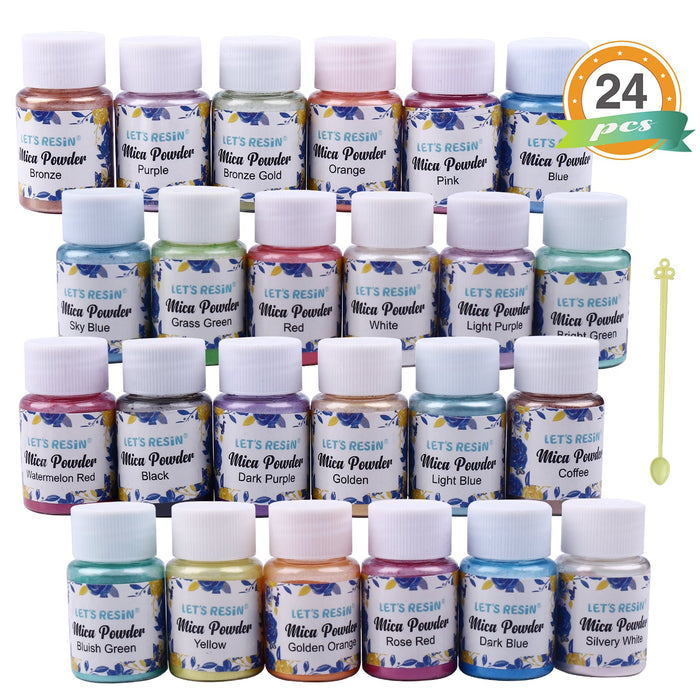 Mica Powder - 24 Colors/Each 0.35oz
Original price
$33.99
-
Original price
$33.99
�4 COLORS MICA POWDER SET: 24 bottles different colors organic pigment powder, each color 0.35oz. It's a natural grindstone and widely used for handmade candle and soap making colorant as well as bath bomb dye, handmade soap dye, nail, and slime pigment. With 5 pcs plastic spoons (random color).
✿RESIN PIGMENT POWDER: This epoxy resin dye kit contains colorful mica powder which can easily mix with the clear epoxy resin, the finished crafts will look like UV resin.
✿SLIME MAKING SUPPLIES: It will be a good way to add this powdered pigments to your DIY slime, enrich kidsâ€?imagination to create the funny handmade DIY slime artwork.
✿HANDMADE CANDLE SUPPLY KIT: Make your candle full of color, the natural mica powder is very unique when you add to your candle. Comes with gift box package, ideal for festival gift use.
✿BOTTLED PIGMENT POWDER: the mica powder is bottled packaged which easy to use and wash clean, natural also organic, very popular for nail pigment powder set, eyeshadow, and lipstick.

Features:
This mica powder is widely used for producing of DIY resin, unique colorful soap/bath bomb.
And it is a natural cosmetic grade mica powder used as lip pigment and makeup pigment powder, very thrifty and non-toxic It is not absorbed by the skin and leaves no traces.


This mica powder has 24 packs+5 pcs plastic spoons (random color)
10g(0.35 ounce)/per color.
Total weight is 240 g (8.4 ounces).
24 Packs Color:
1# Wine Color
2# Gold
3# Bronze
4# Rose Red
5# Light Purple
6# Purple
7# Dark Blue
8# Pink
9# Black
10#Bluish Green
11# Dark Purple
12# Brown
13#Blue
14#White
15# Bright Green
16# Silver Gray
17#Sky Blue
18# Coffee
19#Black
20# Watermelon Red
21# Purplish Red
22# Grass Green
23# Orange
24# Light Blue
You will get free standard shipping in the Canada if your order values over CA$40.
All CA orders will be processed within 1-2 days (business days). Typical shipping time is are 2 - 5 business days. If you wanna cancel your order, please contact us as soon as possible.
If you are not completely satisfied with your new LET'S RESIN® product, please let us know! Returns are FREE within 30 days of purchase.
Please refer to the shipping and return policy for more details.