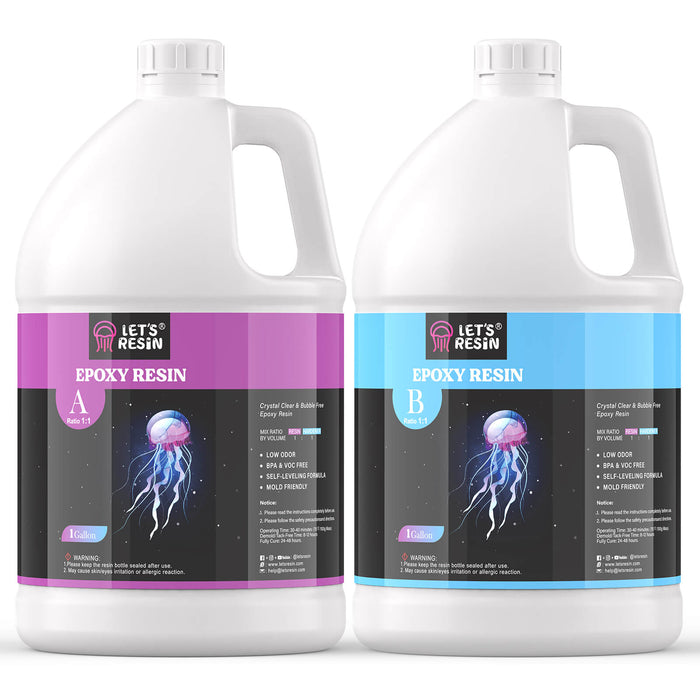 2 Gallon Epoxy Resin Kit
Original price
$200.99
-
Original price
$200.99
2 Gallon Epoxy Resin: LET¡¯S RESIN resin epoxy gallon is made of premium material, which features super clear and high gloss. Also, it can self-leveling, helps eliminate fish eyes or various other imperfections.

Safe Clear Epoxy Resin: Our epoxy resin is very safe to use. Compare to others, we are very proud that it is BPA & VOCs free, low odor. You can rest assured you are getting the best product.

Bubble Free Epoxy Countertop Kit: This clear casting resin is as transparent and clean as glass, bubble-free, great for making layered, deep pieces like countertop, jewelry or molds. Moreover, compared with the traditional epoxy resin, this epoxy resin for the craft is featured by yellowing resistance. Make you complete your perfect artwork without other worries.

Wide Application Tabletop Epoxy: 2 gallon epoxy resin, Lower price with larger volume, perfect for all kinds of casting and coating projects. Including countertop, river tables, DIY, bar top, art, wood, countertop, tray, coating artwork/acrylic pour paintings, geode paintings.

100% QUALITY ASSURANCE: 1-year shelf life. If you received cloudy epoxy resin, no worries it is not expired, caused by the cold temperature, place the bottles of pre-mixed resin into warm water and let the resin warm up a tad before mixing, for any product problems, just contact us to get after-sale service.
Tips
1.How to eliminate bubbles.
Let's resin casting epoxy resin has fewer bubbles even not use the heat gun/torch, the simple way is to let the resin sit for 10-15 minutes, then pour into the mold.

2.I received the epoxy reisn go cloudy,is it expired?
The resin must be the correct temperature for the correct finish. If it¡¯s too cold, it can affect the finish. To warm up resin, place the bottles of pre-mixed resin into warm water and let the resin warm up a tad before mixing. Do not heat it.

3.Can I use the torch or pressure pot?
The answer is yes, but when you use the torch, heat gun, pressure pot will eliminate bubble, meanwhile accelerate curing, so that if you add the alcohol ink to the mold, We don't suggest you use the torch or pressure pot, It will affect the petri dish effect.

4.Does it fit Let's Resin molds.
It definitely fits our molds. Our silicone molds are thin very suitable for our own casting resin, just don't use the torch and heat gun.

5.I have no electronic scale,how to measure the ratio.
No worries, use a measuring cup to measure the volume 1:1 is very convenient as well.

6.How long is the expiration date?
It expires 1 year.

7.If I receive the leak/turn yellow resin, can I GET REPLACEMENT
Of course you are able to get the replacment,just contact us.

Kindly Note:
The clear resin needs to be stored in a dry, safe, temperature controlled environment.
Always keep the lids tightly sealed when not in use. Remember, oxygen and moisture oxidize and can rapidly degrade the epoxy and hardener.

Package includes:?1 bottle Casting Resin
1 bottle Epoxy Hardener
You will get free standard shipping in the Canada if your order values over CA$40.
All CA orders will be processed within 1-2 days (business days). Typical shipping time is are 2 - 5 business days. If you wanna cancel your order, please contact us as soon as possible.
If you are not completely satisfied with your new LET'S RESIN® product, please let us know! Returns are FREE within 30 days of purchase.
Please refer to the shipping and return policy for more details.