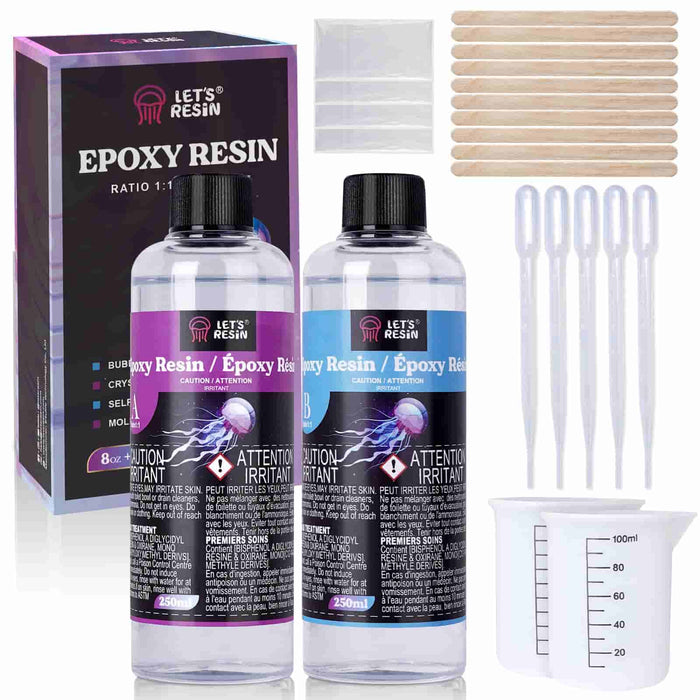 16oz Clear Epoxy Resin Kit
Original price
$29.99
-
Original price
$29.99
Crystal Clear Resin and Hardener: With a 1:1 volume mixing ratio, our epoxy resin is simple to use, even for beginners and hobbyists. This resin kits Includes 8oz crystal clear resin+8oz epoxy hardener, 2pcs 100ml Mixing Cups, 5pcs Transfer Pipettes, 4pcs Disposable Gloves and 10pcs Stir Stick, comes with a detailed instruction.Unlock your artistic potential with LET'S RESIN.

Bubble Free Clear Resin: Our epoxy kit formulation contains anti foaming agents, which are used to prevent air bubbles or destruct the bubbles that have already formed. The bubbles will automatically disappear within an hour, creating finished products as clear as glass. It's perfect for flower preservation. Compared with other epoxy resin, you don't need to spend a lot of time remove bubble, saving your time.

Clear Premium Resin: LET'S RESIN clear resin kit is friendly for the silicone molds, The heat dissipation will not be too high to damage the molds. Our special formula protects from yellowing and guarantees a lasting ultra-clear look, Once cured, our crystal clear epoxy resin is resistant to scratches, water, and heat up to 160℉.

Low Odor Resin Starter Kit: With low volatility, our epoxy resin kit is virtually odorless. Make sure to work in a well-ventilated space to get a more comfortable experience. Our casting and coasting resin are suitable for a variety of DIY craft projects such as making jewelry, coasters, turners, table tops, countertop, painting, etc. And it fits perfectly with silicone molds, not causing molds tearing.

Why choose us: Our resin has a 1-year shelf life. To avoid the biggest problem of resin, which is not curing, please read the manual carefully and then test in a small amount before operation. In case it gets damaged during the transportation, such as leakage or partial loss, please do not hesitate to contact us at any time, we will provide a replacement or money-back guarantee.
You will get free standard shipping in the Canada if your order values over CA$40.
All CA orders will be processed within 1-2 days (business days). Typical shipping time is are 2 - 5 business days. If you wanna cancel your order, please contact us as soon as possible.
If you are not completely satisfied with your new LET'S RESIN® product, please let us know! Returns are FREE within 30 days of purchase.
Please refer to the shipping and return policy for more details.