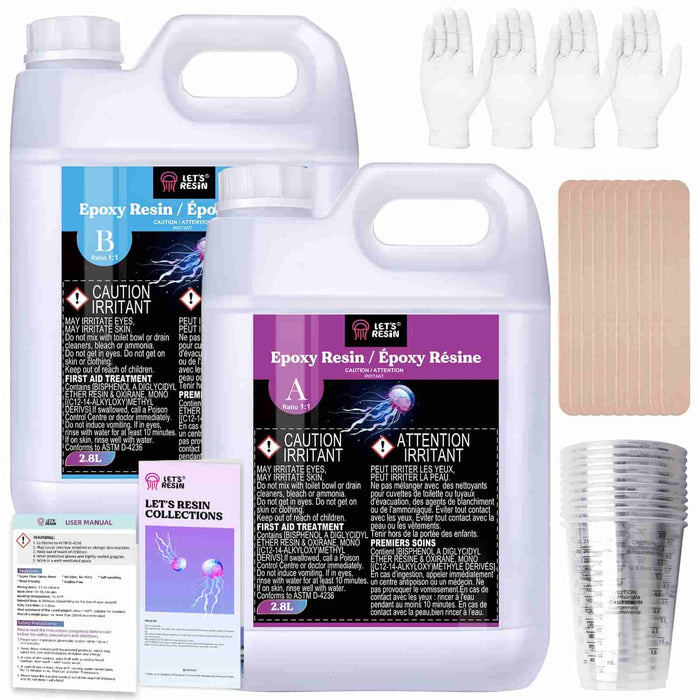 1.5 Gallon Epoxy Resin Kit
Original price
$150.99
-
Original price
$150.99
All in One Epoxy Resin Kit: This resin kit will give some small tools you need to get started with DIY & Craft Ideas, which is very suitable for professional artists or beginners.Includes 0.75 gallon crystal clear resin+0.75 gallon crystal clear epoxy hardener, 10pcs 8oz Measuring Cups, 4pcs Disposable Gloves and 10pcs Stir Stick, comes with a detailed instruction.

Bubble Free Clear Resin: Our resin kit formulation contains anti foaming agents,the bubbles will automatically disappear within an hour, creating finished products as clear as glass.Compared with other epoxy resin, you don't need to spend a lot of time remove bubble, saving your time. It's perfect for flower preservation, jewelry, coasters,tumblers,resin art and acrylic pour paintings, molds, river tables.

Crystal Clear Epoxy Resin: This resin epoxy cures to a crystal clear finish, heat resistant,yellowing resistant,superior high gloss compared to other epoxy resin kit and hard as a rock. This epoxy resin can be mixed perfectly with any pigments and give the finished product a long-lasting, ultra-clear appearance without yellowing.

Safe and easy to use:Our clear epoxy resin are made of safe and premium materials. With low volatility, our epoxy resin kit is virtually odorless. The self-leveling resin epoxy mixed in a 1:1 volume ratio, is easy to operate and requires no experience, even if you are new to resin.It usually takes 8-24 hours to cure in summer and longer in winter.

Why choose us: Our casting resin has a 1-year shelf life. To avoid the biggest problem of resin, which is not curing, please read the manual carefully and then test in a small amount before operation. In case it gets damaged during the transportation, such as leakage or partial loss, please do not hesitate to contact us at any time, we will provide a replacement or money-back guarantee.
You will get free standard shipping in the Canada if your order values over CA$40.
All CA orders will be processed within 1-2 days (business days). Typical shipping time is are 2 - 5 business days. If you wanna cancel your order, please contact us as soon as possible.
If you are not completely satisfied with your new LET'S RESIN® product, please let us know! Returns are FREE within 30 days of purchase.
Please refer to the shipping and return policy for more details.