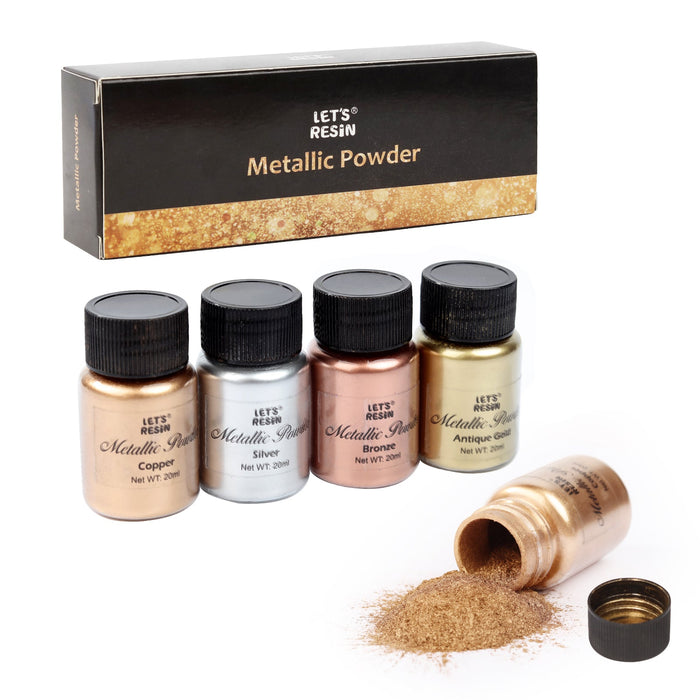 Metallic Pigment Powder - 5 Colors/Each 20ml
Original price
$23.99
-
Original price
$23.99
LET'S RESIN Marble Metallic Pigment Powder: Different from mica powder, LET'S RESIN metallic powder is a vibrant and sparkling modern effect pigment, can be used alone for a subtle sheer color of real metals texture or adding gilded effects to your artwork.

LET'S RESIN 5 Striking Metallic Shades: Included 5 metal colors, Copper, Bronze, Silver, Antique Gold, and Rustic Gold 20ml/jar. The powder's density is different so that they have a different weight.

LET'S RESIN Experience Smooth DIY Making: Superfine powder and silky texture, subtle sheer color with high covering power, can be added to any tacky surface also can mix with the clear epoxy resin.

Wide Application: LET'S RESIN metallic powder perfect for making epoxy resin crafts DIY, Slime, Soap Making, mobile phone's case, greeting cards, mix this powder with any mediums such as resin, paint, varnish, glue, or paste to produce a metallic luster.

LET'S RESIN 100% Pure Powder: Made up of fine particles of metal carefully mixed to produce approximating the colors of metal. Non-toxic, non-tarnishing, offers a deep luster, temperature resistant, Dries quickly, and polishes to a brilliant metallic shine.
Features:
- They can be mixed to create a uniform metallic color.
- They will never tarnish and are not toxic.
- They give your resin artwork a real wow factor and create a lovely resin colour.
- You'll need just a little to produce rich and vivid colors.
- Smoothly ground into tiny granules, these retain beautiful colors that shine whether mixed with a binder, oil, or pouring medium.

5 Colors:
1.Copper Metallic Powder
2.Bronze Metallic Powder
3.Silver Metallic Powder
4.Antique Gold Powder
5.Rustic Gold Powder
You will get free standard shipping in the Canada if your order values over CA$40.
All CA orders will be processed within 1-2 days (business days). Typical shipping time is are 2 - 5 business days. If you wanna cancel your order, please contact us as soon as possible.
If you are not completely satisfied with your new LET'S RESIN® product, please let us know! Returns are FREE within 30 days of purchase.
Please refer to the shipping and return policy for more details.